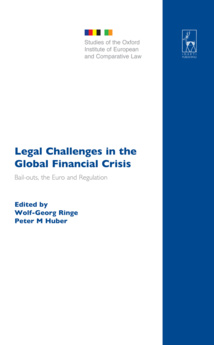 Hart Publishing is pleased to announce the publication of a new title. "Legal Challenges in the Global Financial Crisis" (Bail-outs, the Euro and Regulation) is edited by Wolf-Georg Ringe and Peter M Huber (1).

For Mihalis Dekastros (European Journal of Legal Studies), this book is "...a very welcome addition to the limited European legal literature on the global financial crisis...it constitutes an important contribution in the field and it is certainly to be applauded for paving the way for further cross-disciplinary discussion amongst lawyers". '[T]his book is interesting for anyone working in a dynamic area of law. Academics will want to go through it in its entirety..." (Dimitrios Kyriazis, Law Quarterly Review).

Presentation

The global financial and economic crisis which started in 2008 has had devastating effects around the globe. It has caused a rethinking in different areas of law, and posed new challenges to regulators and private actors alike.

One of the emerging issues is the apparent eclipse of boundaries between different legal disciplines : financial and corporate lawyers have to learn how public law instruments can complement their traditional governance tools ; conversely, public lawyers have had to come to understand the specificities of the financial markets they intend to regulate. While commentary on financial regulation and the global financial crisis abounds, it tends to remain within disciplinary boundaries.

This volume not only brings together scholarship from different areas of law (constitutional and administrative law, EU law, financial law and regulation), but also from a variety of backgrounds (academia, practice, policy-making) and a number of different jurisdictions.The volume illustrates how interdisciplinary scholarship belongs at the centre of any discussion of the economic crisis, and indeed regulation theory more generally. This is a timely exploration of cutting-edge issues of financial regulation.






---------------------------------------------------------------------------------

(1) Wolf-Georg Ringe is a Professor of International Commercial Law at Copenhagen Business School and Visiting Professor at the University of Oxford, Faculty of Law. Peter M Huber is Professor of Law at the Ludwig-Maximilians-Universität Munich and Justice of the Federal Constitutional Court of Germany.